2015 JUDITH BARLOW PRIZE READING
2015 JUDITH BARLOW PRIZE READING 
May 3, 2015
Helen Mills Theater (139 West 26th Street, NYC)
HISTORY MATTERS/BACK TO THE FUTURE presented the staged reading of the inaugural Judith Barlow Prize winning one-act play: 
Three Landings and a Fire Escape 
by Northwestern University student Selina Fillinger
Inspired by Sophie Treadwell's Machinal, this award winning one-act takes place in a Chicago apartment building near the rumbling L train. Three very different women become unlikely friends as they see each other through difficult times and one finds the strength to take matters into her own hands.

Selina Fillinger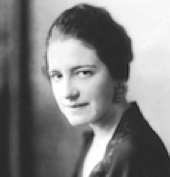 Sophie Treadwell 

Kathleen Chalfant
Directed by award-winning actor and women's advocate Kathleen Chalfant
Staring Jennifer Lim, Beth Dixon and Maria-Christina Oliveras.
CLICK HERE TO Watch the 2015 Judith Barlow Award Presentation & Play Reading