Biography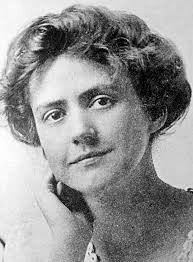 Susan Keating Glaspell
(1876-1948)
Born July 1, 1876, in Davenport, Iowa, Susan Glaspell published news articles and short stories even before entering Drake University, from which she received a degree in philosophy. Over the course of her career, she wrote more than fifty short stories, nine novels, fourteen plays, and a biography of her husband, George Cram (Jig) Cook.
It is difficult to imagine the Provincetown Players (1916-1922) without Glaspell, a founding member who acted as well as wrote plays and served on the group's Executive Committee. Eleven works by Glaspell -- five one-acters, four long plays, and two short comedies co-authored with Cook – appeared on the Provincetown stage.
Glaspell's career in the theater began with Suppressed Desires, a spoof of Freudianism that she composed with Cook. In the summer of 1915 Suppressed Desires joined Neith Boyce's Constancy as the first offerings by the group of friends who would later form the nucleus of the Provincetown Players. This was followed in rapid succession by, among other works, Trifles, The People, Close the Book, The Outside, and Woman's Honor.
Although the Provincetown Players staged only a few full-length works, that number included four by Glaspell: Bernice, Inheritors, The Verge, and Chains of Dew. The Verge has in recent years become one of Glaspell's most popular works. A symbolic play in which the protagonist, Claire, sometimes speaks in verse, The Verge dramatizes the fine line between genius and madness as well as the inadequacies of traditional gender roles and patriarchal language.
After the demise of the Players, Glaspell wrote only a few more works for the stage. Alison's House, inspired by the life of Emily Dickinson, earned her the Pulitzer Prize for Drama in 1931.
Glaspell made still one more contribution to the American theater. During the Depression, the government set up the Federal Theater Project (FTP) to provide jobs for unemployed actors, playwrights, directors and other stage personnel as well as to bring dramatic performances to audiences of limited means. As head of the FTP's Midwest Play Bureau for nearly two years, Glaspell led a team that collected and evaluated promising scripts. When she left that position she returned to her beloved Provincetown to write novels and her last play, Springs Eternal, which was never produced. Glaspell died July 17, 1948.
By the mid twentieth century Susan Glaspell had been reduced to a theatrical footnote, primarily remembered -- if she was remembered at all -- as the author of Trifles and the "discoverer" of Eugene O'Neill. As feminist scholars began to explore the works of forgotten women writers, however, the range, depth and innovation of Glaspell's canon gained renewed appreciation. Scholarly attention, spearheaded by The International Susan Glaspell Society, has resulted in fresh stagings of her works by companies throughout the world.
Her Works
---
---
---
---
---