About the Play
Date
1906
First Production
October 22, 1906, Savoy Theatre, Broadway, New York
Cast Breakdown
5 women, 6 men
Genre
Drama,
Length
Two acts
---
Summary
Set in New York from 1903-1905, The House of Mirth explores the influence of social structure upon individuals—the conventions, norms, and consequences of high society's cattiness are omnipresent in both the novel and play.  The play chronicles the interactions and motivations of the topmost social set of New York. Lily Bart, the protagonist, begins as a central figure in this society but experiences a tragic downfall through the course of action, "[for truly,] these people are some of the cruelest you have ever come across" (Beer et. al 154). 
Lily -- radiant, witty, with a dwindling fortune, and at twenty-nine approaching a marriageability expiration date -- has passed up several potential offers for partnership, and she worries about the encroaching consequences of many gambling debts and a youth filled with impulsive behavior.  The play, beginning with a view of Lily's coffin, retraces her steps as she attempts to maintain her place in the society into which she was born.  The House of Mirth both satirizes and critiques the confines imposed upon Lily by her class, and explores her near-miss at love with Lawrence Selden, a lawyer without a fortune who, though once slighted by Lily, comes to be seen as her potential escape from a tragic demise.
Background
The House of Mirth was a sensational success when it was first released as a series in Scribner's Magazine.  Demands for a stage play immediately followed. The script was adapted and co-written with then-famous playwright and director Clyde Fitch and produced in 1906.  Reflecting on her own experiences with the project, Wharton commented "Once 'The House of Mirth' had started on its prosperous career I was of course besieged with applications for leave to dramatize it; but I refused them all…Great was my surprise, therefore, when I heard that Clyde Fitch, then at the height of his career, was eager to undertake the task" (Beer et. al 148).  Opening on Broadway in October, The House of Mirth closed after fourteen performances. Many critics blamed the play's failure on the decision to stay true to the text by including Lily's death. The script was never published in Wharton's lifetime, and the Wharton-Fitch adapted version remained neglected until the end of the century, when the Mint Theater in New York revived the play in 1998. The Mint's production was drawn together and directed by Jonathan Bank, pieced from four typescripts, and received critical acclaim.  The work was adapted into an award-winning film directed by Terence Davies in 2000. 
---
Reference
Benstock, Shari.  No Gifts from Chance: A Biography of Edith Wharton.  New York: Scribner's, 1994.  Print.
Bex, Sean.  "Marketing Professionalism: The Transatlantic Authorship of Edith Wharton."  Neophilologus 100 (2016): 503-519.  Web.
 "Edith Wharton, 75, Is Dead in France: Special Cable to the New York Times."  On This Day August 13 1937.  The New York Times on the Web Learning Network, 2011.  Web.
Erlich, Gloria.  The Sexual Education of Edith Wharton.  Berkeley: University of California Press, 1992.  Print. 
"The House of Mirth: The .000001%."  Metropolitan Playhouse: The American Legacy, 2011.  Web. 
Lee, Hermione.  Edith Wharton.  Reprint Simon & Schuster, 1998.
Lewis, R.W.B.  Edith Wharton: A Biography.  New York: Harper & Row, 1975.  Print.
Ouzgane, Lahoucine.  "Mimesis and Moral Agency in Wharton's The House of Mirth."  Anthropoetics 3.2 (1997).  Web.
Sciolino, Elaine.  "Edith Wharton Always Had Paris."  New York Times 8 Oct. 2009.  Web.
Wharton, Edith.  A Backward Glance.  New York: D. Appleton-Century, 1934.  Print. 
Wharton, Edith.  The House of Mirth.  London: Electric Book Co., 2001.  EBook.
About the Playwright
Edith Wharton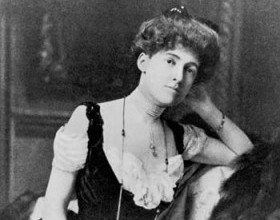 Edith Wharton (1862 – 1937), one of the most prolific internationally-renowned literary figures of the turn of the twentieth century, has inspired generations of writers, scholars, and literary critics. Both Wharton's personal and professional transitions are written between the lines of her novels, poems, short stories, and nonfiction works; however, her work as a playwright has received less attention.  Although Wharton's identity as a playwright was never a defining persona, in retrospect, th…
View Profile
---
Join & Participate
Tell Us Your Experience
---