Biography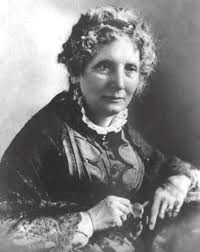 Harriet Beecher Stowe (1811-1896)
            Abolitionist and author of Uncle Tom's Cabin, Harriet Beecher Stowe was at the forefront of the antebellum, anti-slavery movement. She started her career as a writer publishing articles in magazines, for which she became moderately famous, before penning what is considered her masterpiece, Uncle Tom's Cabin (1852).[1] It was an immensely popular and provocative book—Abraham Lincoln allegedly once greeted Stowe as "the little woman who wrote that book that made this great war"[2]— and Stowe wrote a sequel, called Dred in 1856; between these novels, Stowe wrote her only play, The Christian Slave (1855), which is the only dramatic adaption of Uncle Tom's Cabin written by Stowe.[3]
            Born in Litchfield, Connecticut, to Lyman Beecher—a Presbyterian minister—Stowe received a "man's education" under her sister, Catharine Beecher, who also became a well-known writer. When she was twenty-one, Stowe moved to Cincinnati, where her father had assumed the presidency of Lane Theological Seminary. Four years later, in 1836, Stowe married Calvin Stowe, a minister, and they began to house fugitive slaves as part of the Underground Railroad; Stowe's interest in the anti-slavery movement deepened as she interviewed the fugitive slaves who stayed in her home. By 1850, Stowe and her husband moved to Brunswick, Maine, where Calvin became a professor at Bowdoin College.[4] At the encouragement of her sisters and after the passage of the Fugitive Slave Act, Stowe wrote Uncle Tom's Cabin while living in Brunswick.
            Stowe helped mobilize the abolitionist movement in the northern states, especially amongst other women. In 1863, on New Year's Day, she was personally lauded at a gathering of abolitionists celebrating the Emancipation Proclamation, the crowd chanting her name "until Mrs. Stowe stood up, with tears in her eyes, and acknowledged their cries."[5] Opinions of her, however, were very different in southern states. Many critics of Uncle Tom's Cabin personally attacked Stowe in reviews. William Gilmore Simms, in the Southern Quarterly Review, told readers, "Mrs. Stowe betrays a malignity so remarkable…that the petticoat lifts itself, and we see the hoof of the beast under the table."[6] White Southerners weren't Stowe's only critics; many black activists criticized Stowe for sentimental and stereotypical portrayal of slaves and slavery and appropriation of actual slave narratives for her own purposes.[7] Stowe, particularly, lost favor with Harriet Jacobs, a former slave and author of Incidents in the Life of a Slave Girl (1861), after Jacobs asked Stowe to assist her in telling her life and Stowe, instead of offering her help, asked Jacobs if she could use her story in one of her own books.[8] Frederick Douglass, a lifelong friend of Stowe's, also expressed frustration at Stowe's contradictory attitudes and her lack of philanthropy towards educational institutions that aided former slaves.[9]
            Still, these social and political controversies did not discourage Stowe from continuing to pursue her craft. She continued to write until her death, including The Housekeeper's Manual (1873) which she wrote with her sister Catharine, and worked closely with early home economists.[10] She died on July 1st, 1896, in Hartford, Connecticut.  
---
Her Works
The Christian Slave
1855 | Melodrama
This play is Harriet Beecher's Stowe dramatization of her novel Uncle Tom's Cabin. Focusing much more than other dramatizations on the slaves' domestic lives, the play begins in Uncle Tom's cabin with…
More Info
---