Biography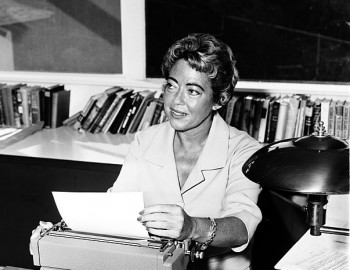 Ketti Frings (1909-1981)
            A Pulitzer Prize winning playwright, Ketti Frings started her career in writing as an advertising copy editor and novelist before writing her award winning drama, Look Homeward, Angel (1957). Before her Broadway debut with Mr. Sycamore (1942), produced by the Theatre Guild, Frings worked as a copywriter, a publicity agent, a columnist, a radio scriptwriter, and ghostwriter under the name Anita Kilgore.
            Born Katherine Hartley in Columbus, Ohio, and given "Ketti" as a nickname, she was the daughter of a sales manager and one of three daughters. Like Thomas Wolfe, the author of the novel Look Homeward, Angel, she was of Scottish and English descent and moved from town to town due to her father's job. By the time she was thirteen, Frings had lived in cities ranging from Brooklyn to Portland, Oregon.
            Frings' first novel was Hold Back the Dawn (1940), a romance between a Romanian immigrant and an American woman, and was adapted for the screen a year later by Charles Brackett and Billy Wilder. Three years later, her second novel, God's Front Porch (1944), was published. Between this her first two novels, Frings penned Mr. Sycamore (1942), a play written "under the banner of symbolism…a fantasy about a postman who transformed himself into a [Sycamore] tree…" (Gassner, 51) and starred Stuart Erwin and Lillian Gish. The play was received coolly by critics and was soon overshadowed by Look Homeward, Angel (1957), which was "a year in the writing and many years in thinking and hoping." (Playbill, 30).  Based on Thomas Wolfe's novel, Look Homeward, Angel, directed by George Roy Hill, was an immense success and ran for 564 performances at the Ethel Barrymore Theater. The play received the Pulitzer Prize for Drama in 1958 the New York Drama Critics Circle Award; it was also nominated for several Tony Awards.
            Writing until her death, Frings continued to publish novels and plays, most notably The Long Dream (1960), which premiered in Philadelphia and caught the attention of actress Elizabeth Taylor and her husband at the time, singer Eddie Fisher.  Frings died of cancer in 1981 at Cedars Sinai Hospital, Los Angeles.
Sources: 
Cook, Joan. "KETTI FRINGS, STAGE AND FILM WRITER." The New York Times. February 13, 1981. Accessed July 24, 2016. http://www.nytimes.com/1981/02/13/obituaries/ketti-frings-stage-and-film-writer.html.
"Eddie Fisher and Elizabeth Taylor." AP Images. May 29, 2009. Accessed July 24, 2016. http://www.apimages.com/metadata/Index/Watchf-Associated-Press-Domestic-News-Pennsylva-/db65787bf6714b28b4b535413d104e9d/1/0.
Gans, Andrew. "Look Homeward, Angel, Directed by Austin Pendleton, Opens in NYC March 16 | Playbill." Playbill. March 16, 2013. Accessed July 24, 2016. http://www.playbill.com/article/look-homeward-angel-directed-by-austin-pendleton-opens-in-nyc-march-16-com-203454
"Look Homeward, Angel." Playbill, February 28, 1958., 30; accessed through the Playbill Vault at playbillvault.com
Her Works
---
---
---
---