Dinner at Eight (co-written by George S. Kaufman)
About the Play
Date
1932
First Production
Music Box Theatre in October, 1932; ran through the spring of 1933.
Cast Breakdown
11 women, 14 men
Genre
Comedy, Drama,
Length
Three acts
Availability
Published by Samuel French
Also published in 2000 in Three Comedies by George S. Kaufman and Edna Ferber, and in 2004 as part of the collection Kaufman & Co.
---
Summary
Millicent Jordan has received a call that Lord and Lady Ferncliffe will be visiting from England. She decides to host a dinner party in their honor, carefully crafting a guest list of men and women whose personalities will balance each other out. What Millicent is not aware of is how her guests are all linked through adultery, backstabbing business deals, and incurable ailments. Even the servants have their secrets. But it is important to make appearances, and all of Millicent's guests will attend the dinner party – if they can manage to keep their illicit affairs behind closed doors.
Background
Frequent but fraught collaborators, Ferber and Kaufman wrote Dinner at Eights at Kaufman's urging. The original production of Dinner at Eight was staged by Kaufman himself, and well received by both audiences and critics. Ferber was pleased with Dinner at Eight, calling it "bitter and entertaining."  A film version was released the following year, featuring a star-studded cast that included Lionel and John Barrymore, Billie Burke, and Jean Harlow. The film was very popular, to such an extent that the style of dress Jean Harlow wears to the dinner party became a fashion trend. Because of the well-known film version and the large number of sets and actors required, Dinner at Eight is rarely produced. Both the 1988 and 2002 revivals, however, received positive reviews. It was remade as a TV movie in 1989.
---
Reference
Gussow, Mel. "Review/Theater; 'Dinner at 8,' 30's Fare, Is Served Up Anew." New York Times, October 8, 1988. Accessed July 20, 2016. http://www.nytimes.com/1988/10/08/theater/review-theater-dinner-at-8-30-s-fare-is-served-up-anew.html.
Kaufman, George S., and Edna Ferber. Three Comedies. Winona: Applause Theatre & Cinema Books, 2000.
Lincoln Center Theatre. "Dinner at Eight." Accessed July 20, 2016. http://www.lct.org/shows/dinner-at-eight/.
Samuel French. "Dinner at Eight." Accessed July 22, 2016. http://www.samuelfrench.com/p/2933/dinner-at-eight.
Simon, John. "Dinner is Served; Lincoln Center Theater mounts a smashing revival of Kaufman and Ferber's Depression-haunted comedy Dinner at Eight; Neil LaBute looks at the opportunistic side of 9/11." New York Magazine. Accessed July 20, 2016. http://nymag.com/nymetro/arts/theater/reviews/n_8181/.
"The Theatre: New Plays in Manhattan: Oct. 31, 1932." Time, October 31, 1932. Accessed July 20, 2016. http://content.time.com/time/magazine/article/0,9171,769753,00.html.
About the Playwright
Edna Ferber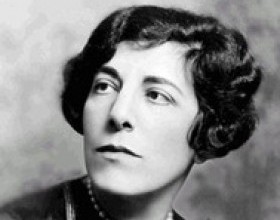 Perhaps less well-known today than in her own time, Edna Ferber was a prolific writer. Her works include twelve novels and eight plays, a selection of novellas and short stories, and two autobiographies. Today, however, her works are largely remembered for their film or stage adaptations. Ferber was born in 1885 in Kalamazoo, Michigan to Jewish parents who operated a general store. As business faltered, they moved among Chicago, Iowa, and Wisconsin. In her travels, she experienced extremes in h…
View Profile
---
Join & Participate
Tell Us Your Experience
---